April Highlights from Nature Picture Library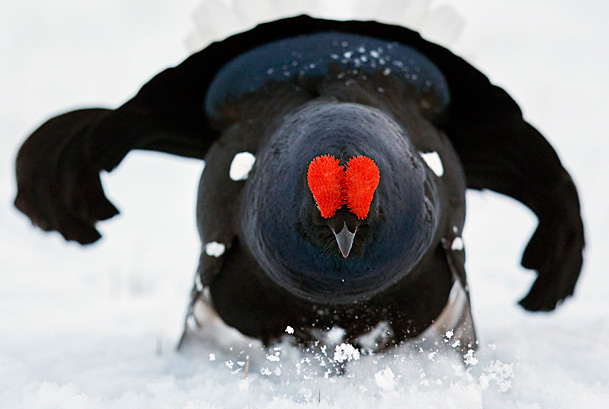 The specialist nature photolibrary Nature Picture Library adds some great new material to their site in the last month. Check out their April 2016 Latest Highlights gallery and you'll find a great range of African wildlife from Wim van den Heever, Markus Varesvuo's beautiful coverage on European gamebirds and Erlend Haarberg's mountain hares at night, plus orcas fishing off Norway, dramatic Humboldt squid, a range of shark species, new Komodo dragons and some spectacular landscapes from Africa, Europe and North America.

Photo © Markus Varesvuo / naturepl.com

Website: www.naturepl.com

Next >

---
A 'Night' to Remember - Bridgeman Studio Award 2016
Bridgeman Images opens its third annual Bridgeman Studio Award, open to all creatives, to win a ?1,000 commission to design the book cover for award winning author Rosie Garland's next title published by The Borough Press, an imprint of HarperCollins.


REGISTRATION NOW OPEN - footageMarketplace Returns to London 25th May - Bigger and Even Better
The premier UK showcase for footage libraries now has production music libraries too. 35 companies showcasing the world's best clips and music will be at 195 Piccadilly (home of BAFTA) in Central London on 25th May, the place to network and learn about the industry in a classic venue.


Capture at fotofringe Showing New Applications
Outstanding digital systems and services company will be unveiling new products for photobuyers and libraries, showcasing the stand-alone Capture products - EXPRESS, ROYALTIES, DESK and SUBMISSIONS in the Limehouse Room on the lowest level of Kings Place.


Nature Picture Library Roars at fotofringe
The specialist nature and wildlife picture library will be exhibiting at fotofringe London next week on Wednesday 20th April. Photobuyers will have a change to win a ?300 Sawdays Canopy and Stars voucher.


Fotofringe is Next Week!
The stock photography industry's annual talk and deal fest is happening on 20th April, only one week away. Held in central London, a stone's throw from Kings Cross, fotofringe features photolibraries and industry suppliers in an informal setting.


A Thousand Years of History at fotofringe from Historic Royal Palaces
Historic Royal Palaces will be exhibiting at fotofringe again this year. Come and discover a thousand years of history at their table and explore a collection of truly unique images showcasing some of the greatest palaces ever built.


Werner Forman Archive - Looting and Loss of Cultural Heritage
Archaeological looting is a global issue that threatens the preservation of our shared cultural heritage. In the Middle East, archaeological looting and the deliberate destruction of archaeological sites and monuments amid ongoing warfare have captured international attention. Antiquities of enormous value have been taken from museums and ancient sites with considerable loss to world heritage.


William Shakespeare 400 Years Anniversary
The 23rd April marks four centuries since the death of one of the greatest writers and playwrights in the English language, William Shakespeare. The Bridgeman archive is the proud home to the Royal Shakespeare Company collection, which holds iconic oil paintings and interpretations of the dramatist and his works.


robertharding in New Partnership With VSO
robertharding are excited to announce a new global representation agreement to distribute VSO's images and video. The royalties will be used to support VSO's work tackling poverty in communities around the world.


Battle of Jutland Commemoration from Royal Museums Greenwich
The First World War Naval Battle of Jutland between the Royal Navy and the German High Seas Fleet took place on 31st May 1916 and the picture library has images of this titanic struggle, in conjunction with an exhibition running from 20th May 2016–2018


New Images on Artimage
Rut Blees Luxemburg investigates the urban, metropolitan landscape and its effect on the human condition. Her work ranges from large-scale photographic prints through to public artworks.


Fighting Tigers from Steve Bloom Images
Conflict between the largest of living cats, two male Siberian Tigers rise to a fighting challenge in the snow of northern China. Male tigers are territorial and solitary, marking the boundaries of their home range and attacking other males who enter and stay.


We've Got You Covered - Indemnity Insurance Now Available from Bridgeman
Leading art and historical stills and footage supplier Bridgeman Images has unveiled a new service to aid image users - legal indemnity insurance which means that the licencee will be protected against damages, liabilities and expenses arising from actual or threatened lawsuits.


Seasons Agency comes to fotofringe
New beauty agency using an exclusive portfolio of European photo productions including elaborately produced content about beauty, cover images, food, home and travel. This library is a division of Stockfood and you will be able to see their images in London on April 20th.


Stockfood will be at fotofringe on April 20th
It's that time again – fotofringe - where everyone who is anyone in the UK stock photography industry gathers at Kings Place in London for the annual gab-and-image fest that is fotofringe. Stockfood will be there on table 7 in Hall 2.


Austerity Easter Eggs and fotofringe Invitation from TopFoto
In 1947 Easter eggs were in high demand and short supply - chocolate was strictly rationed. Shuttleworth's factory shows austerity two ounce eggs, tormenting hungry buyers with a pre-war egg! TopFoto image from March 1947.


living4media are Longing for Summer
Lifestyle, decoration and homes specialist has put together a selection of summer images.They're longing for alfresco dining with friends and lingering on ideas of a quiet glass of wine enjoyed on the terrace. This is just what you want to line up for a glorious summer.


Umberto Boccioni: 100th Anniversary of Influential Artist from Scala Archives
Umberto Boccioni was an influential Italian painter and sculptor. He helped shape the revolutionary aesthetic of the Futurism movement as one of its principal figures. Despite his short life, his approach to the dynamism of form and the deconstruction of solid mass guided artists long after his death.


Who's Got An Exclusive on the Queen?
John Hedgecoe's eyecatching image has been reproduced 200 billion times. It was used for creating a plaster cast which then became the "Queen's Head" on a stamp in 1966. This copyright image, as well as the rest of the set, is held exclusively by TopFoto, the exclusive representative of the late Professor John Hedgecoe.